Company: About Us
Top photo, Emil Usibelli with son, Joe Usibelli, c. 1943.

Bottom photo, Joe Usibelli Jr. with daughter Lexi Usibelli,

summer 2010

A Family Owned and Operated Mine
Usibelli Coal Mine, Inc. is a family owned business. Joe Usibelli Jr. is President of the corporation and his father, Joe Usibelli is Chairman of the Board of Directors. UCM is headquartered in Healy, Alaska, and has permitted reserves in excess of 30 years at current production rates. UCM has identified a surface mineable reserve base of approximately 700 million tons, of which, 450 million can be classified as proven and 250 million as probable utilizing surface mining techniques. UCM will produce in excess of 2 million tons of subbituminous coal annually and could easily double production if the market demanded.
Coal is transported to six Interior Alaska electrical power plants - including three military sites: Fort Wainwright (U.S. Army), Eielson Air Force Base and Clear Air Force Station; Golden Valley Electric Association - Fairbanks' electric cooperative; Aurora Energy - a wholesale supplier of electricity and provider of district heat in Fairbanks; and the University of Alaska Fairbanks power plant. Additionally, UCM has exported coal to South Korea since 1985 and to Chile since 2004 through the Seward Coal Terminal at the Port of Seward. Over the years, UCM has also provided test shipments to Russia, Taiwan, China, and Japan.
The Environment is a High Priority
Four generations of the Usibelli family have lived within just a few miles of the mine in Healy. Because the mine is the family's backyard, it was not surprising that UCM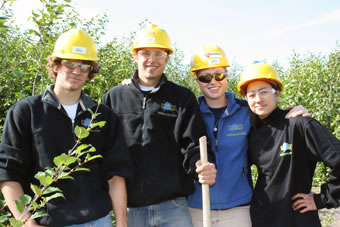 pioneered a successful land restoration program six years before it was required under Federal law. The ultimate goal of restoration is to establish a natural landscape on previously mined land. The land is contoured and then seeded with a carefully researched mixture of grasses and plants indigenous to northern regions. Local school children help collect cones from local trees to germinate seedlings for transplanting.

Laboratory testing proves that the sulfur content of UCM coal is among the lowest of any coal produced in the world. Other environmental benefits of the coal include high calcium content and excellent performance in equipment designed to reduce gas emissions. These environmental attributes make Usibelli coal attractive as an efficient, clean energy source.

UCM's commitment to innovative technology, long-term involvement in Clean Coal Technology, a pioneering restoration program, and its dedication to environmental excellence has earned the mine a position of leadership in Alaska and in the U.S. coal industry.
MINE OFFICE
PO Box 1000
100 River Road  
Healy, AK 99743  
Tel: (907) 683-2226         
Fax: (907) 683-2253
FAIRBANKS OFFICE
100 Cushman St., Suite. 210
Fairbanks, AK 99701-4674
Tel: (907) 452-2625  
Fax: (907) 451-6543